Documents drive your business. With integrated workflow, you can drive your document-based processes. Simply map out the desired flow of information through your organization in Feith's Workflow tool, and the system automatically turns your workflow diagram into a live process.
Never be limited by your platform. Workflow integrates with your critical apps, systems, and processes. You know what your process should look like. Now build it with Feith's Workflow iQ.
Draw a map of your process in Feith's Workflow IQ, and it instantly becomes live automated software.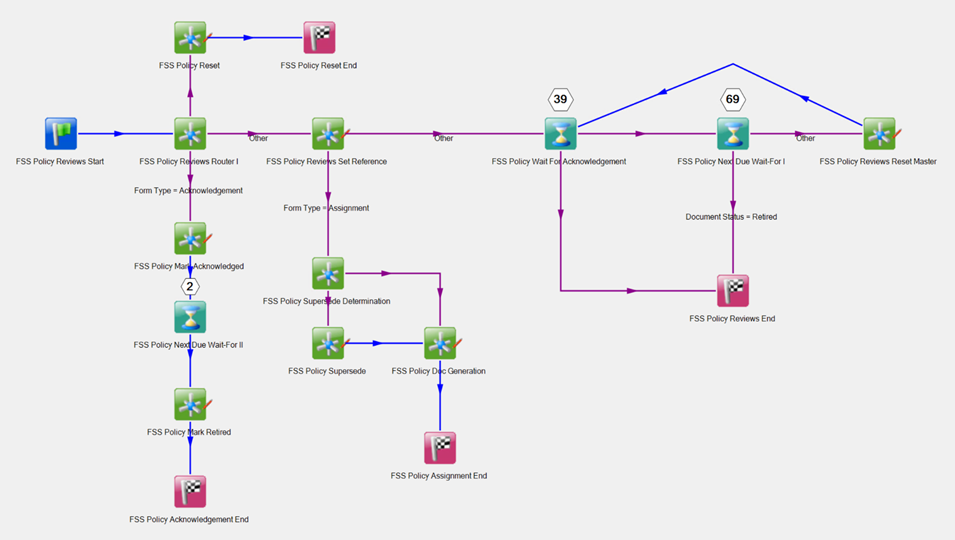 With Workflow iQ, you can notify on any step of your workflow processes. Route the process through specific users for approvals or other user-based processes. If you discover challenges, or have new business needs, simply update the workflow to accommodate those needs on the fly. Make heroes of your power users.
Effortlessly automate your general day-to-day business needs, as well as industry-specific applications, all with one remarkable automation application. You can then fine-tune your processes visually in the designer, or with custom SQL commands.
Visually design workflows.
Change to shifting demands.
Simple  management interface.
Adjust rules, roles, and routes.
Move data around seamlessly.
Automate notifications.
To add greater integration and additional functionality, add calls to external software and scripts, with tokens derived from your own data repositories. Feith gives you the power to administer, track, and control your process in real time.
Hear how clients in your industry are using the Feith platform to tackle their most challenging records-based processes. 
A Cost/Benefit Analysis for a Workflow solution shows an estimated ROI of 300% over the lifetime of the project.
ARMA International, "Cost/Benefit Analysis for Implementing ECM, BPM Systems"
Capture documents in the document database.
Route documents along the workflow based on rules you create.
Automate and track workflow based on permissions you set.
Work through a simple web browser interface or desktop client.
Monitor progress with dynamic dashboard visualizations.
Feith is the only Workflow platform you will ever need to manage your business processes. No matter how individual your process, tailor workflows to streamline your critical processes and procedures.